We had a better night last night. Got up at 2am for gabapentin we were awake for an hour then back to sleep until 6am!!! Today he has spent a lot of time sleeping and when not doing that then prowling around trying to get in trouble.  He had a visit from my bff and he played with her then fell asleep.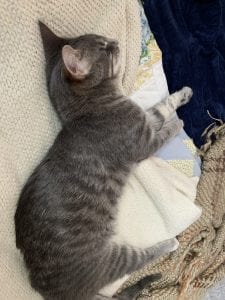 He has decided he is done being cooperative with medications, even with a treat afterwards.  I'm holding off on another dose of buprenorphine to see how he does on just gabapentin and onisor (2 more days worth).  His next dose should be around 7 tonight so I'll have some time before bed to evaluate his pain level.
He still wants to cuddle with mom and I'm not complaining!!