Day 1 was not at all what I expected.  He wanted to play! He started to climb the netting on the corral and was very persistent.  Each time I took him off the netting and tried to distract him with something else he would go right back to it.  He finally gave in.  Still is being a cuddle bug!!
He did do a significant amount of sleeping in the afternoon.  He is eating and drinking.  He gets liquid high protein treat after meds.  No problems with pottying.  Incision looks really good!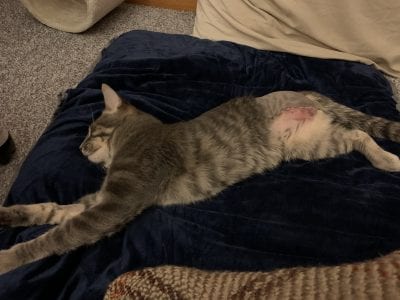 I think he is doing so well with moving around because he was basically a tripawd before the stump was removed.  I would say he is not the typical recovery story.